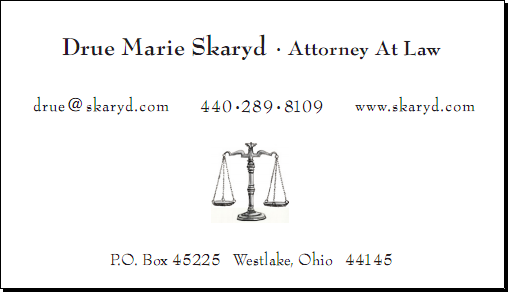 Thank you for taking the time to explore my website. I graduated from Case Western Reserve University School of Law in 1999 and became licensed to practice law in Ohio that same year. I began my career at a national accounting firm where I concentrated on employee benefits and executive compensation for various Fortune 500 companies. I later discovered that I really enjoyed working with individuals and local businesses so I joined a local law firm focusing on complex business issues, business formation, probate, insurance and real estate matters. In 2009, I opened my own practice in order to better assist my clients. Based upon my expanding client base and my love of Asheville, North Carolina, I obtained a license to practice law in North Carolina in 2010. While my office is physically located in Westlake, Ohio, I am available to meet with potential clients in either Asheville, North Carolina or Westlake, Ohio by appointment.
Prior to starting my career, I worked as a legal extern for a Federal Court Judge, where I gained valuable experience in all aspects of litigation and procedural matters. Since starting my own practice, I have taught a college level business law course and sat on the Board of Trustees for a non-profit organization in Southern Ohio.
My firm will work zealously to represent the client.s interest in any matter in which it is retained. Each client matter is handled with integrity, honesty and with an understanding of how the matter impacts the client. I generally strive to resolve disputes without resorting to litigation, if possible. However, I recognize that in some cases, an acceptable resolution cannot be reached and the matter must be resolved through litigation.
If you are interested in learning more, please contact me at the above noted number. It is the policy of this firm to require a letter of representation to be signed by both the client and the firm prior to the creation of any attorney-client relationship.
The information contained at this site is provided for informational purposes only and does not constitute legal advice, nor does it create an attorney-client relationship. Thus, you should not act or refrain from taking any action, or rely on any information on this website, without first seeking the advice of an attorney.
Bar Admissions:
Ohio, 1999
U.S. District Court, Northern District of Ohio, 2002
U.S. District Court, Southern District of Ohio, 2002.
North Carolina, 2010
Professional Associations and Memberships:
West Shore Bar Association
Scholarship Committee, 2014.
Continuing Legal Education Committee, 2010-Present.
Social Committee, Chair: 2010-2011.
Ohio State Bar Association
North Carolina State Bar Association
28th Judicial District Bar of North Carolina (Buncombe)